The Luxembourg pilots association, UPL-AOPA,  invites you to the 32nd edition of its annual end of summer adventurous fly out to Annecy in the French Alps. Many single-engine planes take off from Luxembourg airport and surrounding airfields for an up to 3-day adventurous flying expedition. 
You can either join with your own or your flying club's plane, be it as a pilot or a passenger. We can facilitate the introduction of a pilot for this unique experience. If you are a new private pilot, but you prefer to have an experienced pilot with you, we can facilitate this as well. You can also join this trip by car – alone or together with your friends. Up to you.
Most of the participating small planes (Cessna, Piper, Cirrus, ..)  can contain up to 4 persons. They typically fly at a speed of 180 to 300 km/hr. without having the risk for an excess speed ticket of the police camera. The participants consist of pilots, their friends and simply aviation enthusiasts looking for having a good time.
After a couple of hours flight or car drive, you'll arrive at the LFLP – Annecy Meythet (Annecy Mont-Blanc) Airport , with stunning views of the Alps where we come together.
After check-in at the Ibis hotel, you'll discover on your own the charming medieval town of Annecy, where you can stroll through the streets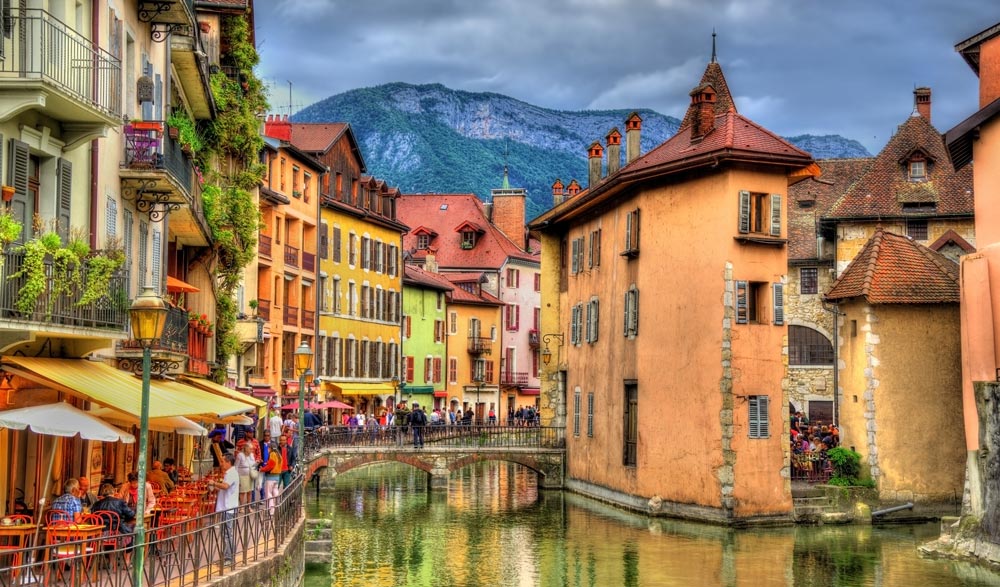 You can also go for a boat ride on the lake or simply relax.
On Friday evening, we propose two options for dinner: either our traditional "tartiflette" evening at Sylvie's place in Annecy, either at a nearby restaurant. Afterward, you can discover the vivid nightlife of Annecy.
Saturday morning, the participants who prefer can fly up to special mountain airfields, named altiports, such as Megève, Courchevel, Méribel, Alpe d'Huez, Corlier or La Motte. You'll likely can switch to a mountain plane such as the famous Musketeer planes, together with a local mountain instructor. He'll instruct you how to safely land on these mountain altiports. This is the highlight of our fly-out and such a great experience that we are organizing this for 32 years.
After your flying adventure day in the high mountains, you can participate at a cozy dinner at Fretis Restaurant, who serves mountain specialties including fondu, raclette and Grison dried meats. Over here, great stories and experiences are exchanged. For the courageous ones, the nightlife of Annecy is appealing again and even stronger on this Saturday evening.
On Sunday afternoon we are leaving Annecy and return home.
As September is high season in the French Alps in general and Annecy in particular, UPL-AOPA Luxembourg pre-booked 10 rooms for your convenience, either for double or single usage. There is limited availability: first come, first served. We will try to book additional rooms if the attendance is higher, but there is no guarantee.

You are hereby invited to sign up and pre-book your room as of now, with free cancellation until August 27th, 2019 at 18 hours sharp by email to info@upl-aopa.lu . If you cancel your reservation after that date, there is no refund.
For members of UPL-AOPA, there is a 25€ participation fee. Non-members pay 75€ participation fee. This is a non-commercial event and the fees are used to facilitate a smooth organization (e.g. rental cars – shuttle buses will be made available, etc…)
Please register as a member or non-member and book the rooms of your choice.
FAQs
Are there ID or minimum age requirements to enter the event?
nope, everyone is welcome. KIds (-18 yrs) travel for free
What are my transportation/parking options for getting to and from the event?
We organize some local shuttle vans to travel from the airfield to the hotel and to the restaurants. These are paid for with your fee. We seek some volunteers to drive these shuttle vans
How can I contact the organizer with any questions?
Kuy-Ly ANG is the event organizers for UPL-AOPA. Our newest board member, Rajiv Aurora will assist him.
Please email your questions to both kuylyunden@gmail.com and info@upl-aopa.lu 
What's the refund policy?
UPL-AOPA prebooked a number for hotel rooms for your convenience. You can cancel your participation per email at info@upl-aopa.lu to until Wednesday August 27th at 6pm sharp and will get a refund of your hotel reservation and registration fee. Guaranteed by UPL-AOPA.
———————-
FRENCH TEXT
———————
L'association des pilotes luxembourgeois UPL-AOPA vous invite à la 32ième édition de son vol d'aventure annuel de la fin de l'été à Annecy dans les Alpes françaises. De nombreux avions monomoteurs décollent de l'aéroport de Luxembourg et des aérodromes avoisinants pour une expédition aventureuse de 3 jours.

Vous pouvez vous joindre avec votre propre avion ou celui de votre aéroclub, que ce soit en tant que pilote ou passager. Nous pouvons faciliter la présentation à un pilote pour cette expérience unique. Si vous êtes un nouveau pilote privé, mais que vous préférez avoir un pilote expérimenté avec vous, nous pouvons faciliter cela aussi. Vous pouvez également rejoindre ce voyage en voiture – seul ou avec vos amis. A votre choix.
La plupart des petits avions participants (Cessna, Piper, Cirrus, ..) peuvent contenir jusqu'à 4 personnes. Ils volent généralement à une vitesse de 180 à 300 km / h. sans risque d'excès de vitesse avec la police. Les participants sont des pilotes, leurs amis et tout simplement des passionnés d'aviation à la recherche d'un bon moment.
Après quelques heures de vol ou de voiture, vous arriverez à l'aéroport LFLP – Annecy Meythet (Annecy Mont-Blanc), avec une vue imprenable sur les Alpes où nous nous retrouvons.
Après l'enregistrement à l'hôtel Ibis, vous découvrirez par vous-même la charmante ville médiévale d'Annecy, où vous pourrez vous promener dans les rues.
Vous pouvez également aller faire un tour en bateau sur le lac ou simplement vous détendre.
Vendredi soir, nous vous proposons deux options pour dîner: soit notre traditionnelle soirée «tartiflette» chez Sylvie à Annecy, soit dans un restaurant voisin de l'hôtel si vous avez par exemple une allergie au lactose. Ensuite, vous pourrez découvrir la vie nocturne animée d'Annecy.
Samedi matin, les participants peuvent voler vers des aérodromes spéciaux de montagne, appelés altiports, tels que Megève, Courchevel, Méribel, l'Alpe d'Huez, Corlier ou La Motte. Vous changerez probablement à un avion de montagne tels que les célèbres avions mousquetaires, avec un instructeur de montagne local. Il vous indiquera comment atterrir en toute sécurité sur ces altiports de montagne. C'est le point culminant de notre fly-out et une si grande expérience que nous organisons cela depuis 32 ans.
Après votre journée d'aventure en haute montagne, vous pourrez participer à un dîner au restaurant Fretis, qui sert des spécialités montagnardes telles que la fondue, la raclette et les viandes séchées de Grison. Ici, de belles histoires et expériences sont échangées. Pour les courageux, la vie nocturne d'Annecy est à nouveau attirante et encore plus forte le samedi soir. 
Dimanche après-midi, nous partons d'Annecy et rentrons chez nous. Comme Septembre est la haute saison dans les Alpes françaises en général et Annecy en particulier, UPL-AOPA Luxembourg a pré-réservé 5 chambres simples et 10 chambres doubles pour votre commodité. La disponibilité est limitée: premier arrivé, premier servi. Nous allons essayer de réserver des chambres supplémentaires si la participation est plus élevée, mais il n'y a aucune garantie.
 Vous êtes invités à vous inscrire et à pré-réserver votre chambre dès maintenant, avec une annulation gratuite jusqu'au 27 août 2019 at 18 heures par email au info@upl-aopa.lu . Si vous annulez votre réservation après cette date, il n'y a pas de remboursement.
Pour les membres de l'UPL-AOPA, il y a des frais de participation de 25 € par personne. Les non membres paient 75 € de frais de participation. Il s'agit d'un événement non commercial et les frais sont utilisés pour faciliter une organisation harmonieuse (par exemple, les voitures de location – des navettes seront mises à disposition, etc …)
Nous vous invitions à vous enregistrer dès maintenant comme membre ou non-membre et le nombre de chambres comme cela vous arrange au mieux.

FAQ

Existe-t-il des pièces d'identité ou des critères d'âge minimum pour participer à l'événement?

Non, tout le monde est le bienvenu. Les enfants (-18 ans) voyagent gratuitement. 
Quelles sont mes options de transport / stationnement pour me rendre à l'événement et en revenir?
Nous organisons des navettes locales pour voyager de l'aérodrome à l'hôtel et aux restaurants
Comment puis-je contacter l'organisateur pour toute question?
Kuy-Ly ANG et notre nouveau membre du conseil d'administration Rajiv Aurora sont les organisateurs  expérimentés pour UPL-AOPA.
S'il vous plaît envoyez vos questions à kuylyunden@gmail.com et info@upl-aopa.lu 
Quelle est la politique de remboursement?
UPL-AOPA a pré-réservé un nombre limité de chambres d'hôtel pour votre commodité. Vous pouvez annuler votre participation vpar email jusqu'au 27 août à 18 heures et vous serez remboursé de la réservation de votre hôtel et des frais d'inscription. Garanti par UPL-AOPA